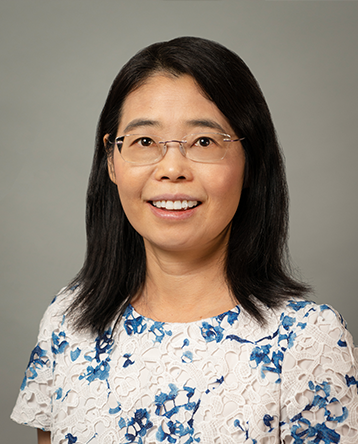 Jessica Zhang is the George Tallman Ladd and Florence Barrett Ladd Professor of Mechanical Engineering at Carnegie Mellon University with a courtesy appointment in the Department of Biomedical Engineering. She received her B.Eng. in Automotive Engineering and M.Eng. in Engineering Mechanics from Tsinghua University, China, and M.Eng. in Aerospace Engineering and Engineering Mechanics, and Ph.D. in Computational Engineering and Sciences from the Institute for Computational Engineering and Sciences (now Oden Institute), the University of Texas at Austin.
Zhang's ;research interests include computational geometry, isogeometric analysis, finite element method, data-driven modeling, image processing, mesh generation, and their applications in computational biomedicine, materials science and engineering. Zhang's group develops novel algorithms on biomodeling at molecular, cellular, tissue, and organ scales, and explores applications in various application fields. She has published over 200 technical articles in peer-reviewed journals and conference proceedings.
Zhang is the recipient of Simons Visiting Professorship from Mathematisches Forschungsinstitut Oberwolfach of Germany, US Presidential Early Career Award for Scientists and Engineers, NSF CAREER Award, Office of Naval Research Young Investigator Award, and US Association for Computational Mechanics (USACM) Gallagher Young Investigator Award. At CMU, she received David P. Casasent Outstanding Research Award, George Tallman Ladd and Florence Barrett Ladd Research Professorship, Clarence H. Adamson Career Faculty Fellow in Mechanical Engineering, Donald L. & Rhonda Struminger Faculty Fellow, and George Tallman Ladd Research Award. She is a Fellow of American Institute for Medical and Biological Engineering (AIMBE), American Society of Mechanical Engineers (ASME), Executive Leadership in Academic Technology, Engineering and Science (ELATES) at Drexel, Solid Modeling Association (SMA) and USACM.
Using Computational Design to Improve Modeling
Image Modeling for Biomedical Organs
Education
2005 Ph.D., Institute for Computational Engineering and Sciences, University of Texas, Austin
2002 Master of Engineering, Aerospace Engineering and Engineering Mechanics, University of Texas, Austin
1999 Master of Engineering, Engineering Mechanics, Tsinghua University
1996 Bachelor of Engineering, Automotive Engineering, Tsinghua University
Media mentions
CMU Engineering
Modeling neuron traffic jams in the brain
MechE's Jessica Zhang and Angran Li have developed a new way to model material transport regulation in neurons using cutting-edge parametrization technology and isogeometric analysis. This new, much more detailed modeling will help provide insights on "neural traffic jams," which contribute to neurodegenerative diseases such as Alzheimer's, Huntington's, and Parkinson's disease.
Zhang delivers two keynotes
MechE's Jessica Zhang recently delivered two virtual keynotes: CMBE22 and CVPR 2022.