De Boer group: Mechanics of Materials
Society faces many energy-related issues that can be effectively addressed by mechanical engineers. These include the development (i) of high temperature materials that will improve efficiency, (ii) of ultra-reliable low energy nanoswitches that can eliminate wasteful leakage in nanoelectronics, (iii) of soft magnetic materials that can sharply reduce heat loss in electric motors and generators, and (iv) of ultra-strong polymers that have enormous strength-to-weight ratios. Our group works in these and related areas within the discipline of Mechanics of Materials, which combines a rigorous understanding of the stress states imposed by applied forces with research into the microscopic mechanisms that metals, ceramics and polymers employ to accommodate the associated deformations.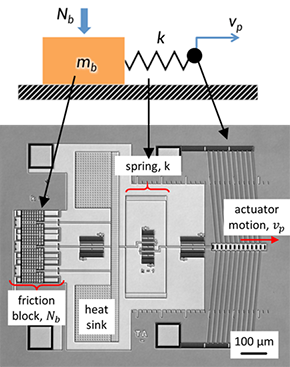 We have conducted extensive research on enhancing the reliability of micromachined devices, including fabrication, test, and analysis of new structures, and of building advanced test chambers. Our current areas of emphasis are on understanding creep in nanocrystalline metals and on microswitch lifetime analysis. We now are also working in the area of metal additive manufacturing, with specific interest in forming abrupt junctions and oxidation resistant high entropy alloys. Another new thrust is in mechanics of magnetic materials. We collaborate with faculty in the Materials Science and Engineering, Electrical and Computer Engineering, and Mechanical Engineering departments.