Students get serious about simulation at ANSYS
Catherine Graham
Jan 10, 2017
Talk about a match made in engineering heaven.
Carnegie Mellon and ANSYS, Inc., an engineering simulation software company, recently broke ground on a new 30,000 square foot facility where students, faculty, and ANSYS professionals will collaborate to find innovative solutions in manufacturing and product design.
The goal of the partnership is to give the next generation of engineers more hands-on experience to help them become leaders in their respective fields.
While the new building is the next step in the partnership, ANSYS has long been helping Carnegie Mellon students prepare for future careers through its summer internship program. Last summer, the following mechanical engineering graduate students completed internships with ANSYS.
All three agreed their internships gave them practical experience in their field of specialization, as well as an inside look at the industry they plan to work in.
Shaolei Shen, who will graduate in May, interned in the Electronics Business Unit. There, he worked on a product called Electronics Desktop, which houses ANSYS electromagnetics simulation applications. Shen conducted testing to identify possible defects, and designed an automatic user interface testing tool for the product.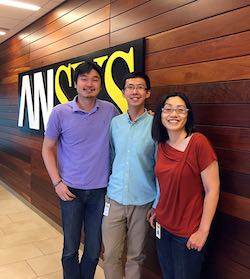 "The software I worked on at ANSYS helped my understanding of finite element analysis, which is something I'm particularly interested in and am good at," says Shen. "It also required me to learn about user interface design and developed my knowledge of that area, which is going to help me in my research."
Shen also enjoyed the team dynamic at ANSYS. He and his colleagues had barbeques and other outings on the weekends.
"I built good relationships with the workers there, and I saw how people really work in the industry, which is different than learning about it in school. My internship gave me a clear understanding of what kind of company culture I want in the future."
Anchit Sood's internship gave him the chance to work on computer-aided design (CAD) models that allow users to visualize what they are going to build before they build it. His main job was to write code that manipulates and simplifies existing CAD models used in ANSYS software.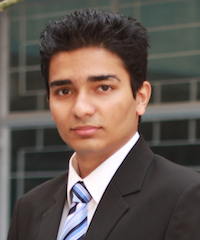 "Simplifying CAD models helps ANSYS customers reduce the time it takes for them to go from the conceptualization process of the design all the way to actually manufacturing that product. It could be anything from a spaceship or satellite to something as small as a smart phone," Sood explained.
Sood said learning to write code for simulation software will be a major asset for his future career, along with the experience he gained from working on different CAD models. At Carnegie Mellon, Sood had already designed CAD models himself, but the internship was his first opportunity to work on models designed by other engineers.
"Instead of making the models myself, I was actually looking at models made by other people and working to make them better or making more sense out of them. In that way, the internship added an extra dimension to something I was already familiar with and interested in," said Sood.
Vishal Jain interned with the Software Development Team in the Mechanical Business Unit. He wanted to intern with ANSYS because of its reputation as a top company in his specialization, computational engineering. Jain described the summer internship as an engaging, well-rounded experience.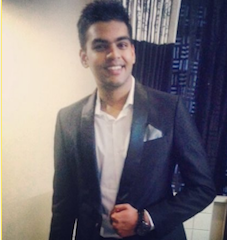 "I was given projects on a weekly basis. I wasn't just working on one thing. I was exposed to many different projects and areas that ANSYS works on," said Jain.
One of his largest projects was building applications for the new ANSYS App Store. Jain used existing ANSYS tools to create custom applications that are specific to a customer's needs. By creating custom applications, Jain was helping ANSYS customers design their products more efficiently.
Jain can already see the skills he gained at ANSYS translating to his future career. "Most mechanical engineering companies use ANSYS for product development, so my internship experience has enabled me to develop tools and applications for their specific needs. If I work for another company, I can customize ANSYS software for them and help them build better products," he said.
Jain graduated from Carnegie Mellon in December and plans to pursue a career that brings together design, software and computational engineering.