Hyperloop team heads to California for final competition
Staff Writer
Jan 19, 2017
Competition update: Carnegie Mellon Hyperloop earned 8th place in the design and construction category!
After more than a year of work, Carnegie Mellon University's Hyperloop team puts the finishing touches on its half-sized pod protoype for next week's official SpaceX Hyperloop Pod competition in Hawthorne, Calif.
There, the team will compete against the other finalists that made it through last winter's competition. Out of more than 1,300 original teams, only 30 remain.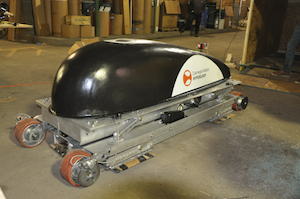 The final competition will take place January 27-29, with teams running their pods on Hyperloop's 1.5 mile vacuum tube test track.
There will be two winning categories of the competition: fastest pod and highest score (based on criteria set by SpaceX).
According to team captain Vishal Jain, CMU Hyperloop has also been selected to move ahead in the Hyperloop Pod Competition II, scheduled for summer 2017.
Follow the competition @cmuhyperloop on Twitter and Facebook. 
Learn more about Carnegie Mellon Hyperloop.
Related links:
Here are the big winners of Elon Musk's Hyperloop pod competition
In it to win it: CMU teams floats airtight design in Hyperloop Pod competition
Carnegie Mellon University joins SpaceX Hyperloop Pod competition