Krishnamurthy receives 2017 Kokes Award
Staff Writer
Mar 15, 2017
MechE Ph.D. student Dilip Krishnamurthy has been selected as a recipient of the 2017 Kokes Award for the 25th North American Catalysis Society (NACS).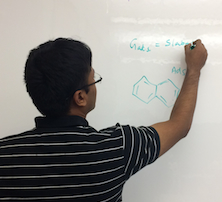 NACS seeks to promote and grow the science of catalysis and its related sciences. The Richard J. Kokes Travel Award, which covers a portion of lodging and registrations fees, encourages North American college students to attend the biennial NACS meeting to be held June 4-9 in Denver.
As one of roughly 100 recipients of the award, Krishnamurthy will learn about technological challenges, breakthrough discoveries, and state-of-the-art academic and industrial research within the field of catalysis.