The future's high-functioning materials—today
May 21, 2019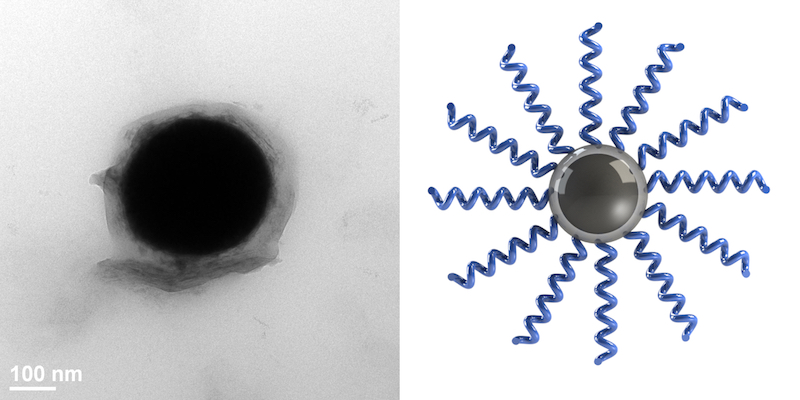 From soft robotics and artificial skin to biomedical devices and human-machine interfaces, future technologies will rely on high-functioning materials that do not yet exist. In a scientific breakthrough, researchers at Carnegie Mellon University collaborated across polymer chemistry and engineering to synthesize new materials with extraordinary properties.
In findings published in Nature Nanotechnology, researchers described a technique where they combined Atomic Transfer Radical Polymerization (ATRP) with an emerging class of rubber composites in which soft elastomers are embedded with nanoscopic droplets of liquid metal. This is the first time the combination of these methods has resulted in enhanced electrical and thermal properties of polymers without sacrificing their natural elasticity.
"We can now suspend liquid metal in virtually any polymer or co-polymer in order to tailor their material properties and enhance their functionality and performance," said Carmel Majidi, an associate professor of mechanical engineering and head of the Soft Machines Lab. "This has not been done before. It opens the door to future materials discovery."
Imagine a droplet of liquid metal that has "brushes" of monomers—the chains that join together to form polymers—radiating from its surface. These monomers bond together very strongly with the monomers on the neighboring nanodroplets, forming the foundation for new, robust polymer materials.
By combining different polymers with different concentrations of liquid metal, researchers can control what specific properties they want their materials to have with a greater amount of freedom. The vast combination of materials enabled through this approach could create opportunities to design elastomer composites with "made-to-order" material properties that are identified using artificial intelligence.
Lead author Krzysztof Matyjaszewski, a professor of chemistry at Carnegie Mellon, pioneered ATRP in 1994. When Majidi wanted to push the boundaries of his own research, he knew he couldn't move ahead without the expertise of a polymer chemist. A partnership began, and with the addition of Michael Bockstaller, a professor of materials science and engineering, an advanced collaboration was born.
For more information, read the full article: Solution Processable Liquid Metal Nanodroplets by Surface-Initiated Atom Transfer Radical Polymerization, Nature Nanotechnology.
Media contacts:
Lisa Kulick, College of Engineering
lkulick@andrew.cmu.edu
Jocelyn Duffy, Mellon College of Science
jhduffy@cmu.edu