A passion for invention
Apr 23, 2021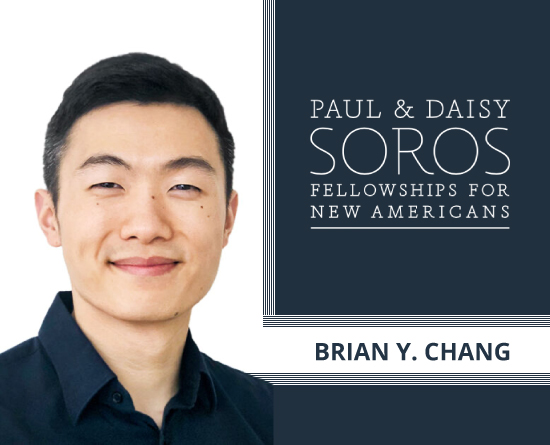 MechE alumnus Brian Chang ('13, '14) is a scientist, an entrepreneur, a flowchart superhero, and a soon-to-be physician. He has also earned the prestigious Paul & Daisy Soros Fellowship for New Americans. This program invests in the graduate education of immigrants and children of immigrants who are poised to make significant contributions to U.S. society, culture, or their academic field. As a medical student in the Harvard-MIT Program in Health Sciences and Technology, Chang will receive up to $90,000 in financial support over two years.
What sparks a passion for invention? For Chang, it was the childhood experience of wandering through his father's workshops. Born to immigrants from Shanghai, China, he watched his father complete graduate studies in engineering and his mother pursue medical training in the United States. He grew up surrounded and inspired by his parents' love of learning.
The best experiences come from when you have no idea how to overcome the challenges you face.

Brian Chang, Mechanical Engineering alumnus
Chang followed in his parents' scientific footsteps. After pursuing undergraduate and master's degrees in mechanical engineering at Carnegie Mellon University, he went on to earn a Ph.D. at the Massachusetts Institute of Technology (MIT). His interest in biomedical device innovation led him to develop methods that make advanced cardiac technologies more accessible. He went on to cofound X-COR Therapeutics, a medical device startup developing a treatment for lung failure that has the potential to support patients with severe COVID-19 and chronic obstructive pulmonary disease (COPD). 
When he realized the power of engineering to improve patient care, he became committed to breaking down the barriers of inequitable and inaccessible medical care. "It's one thing to code or build something new in the lab, but something else entirely to see it being used to help critically ill patients recover from serious illnesses," he said. "I have found it incredibly rewarding to not only create new therapeutic options but also participate in its implementation with patients in the hospital."
Fresh ideas and unique perspectives are how the boundaries are pushed.

Brian Chang, Paul & Daisy Soros Fellowship for New Americans recipient
Chang has forged his own path and cultural identity. "Growing up, I have always felt like my family has straddled the line between Eastern and Western customs. It seemed like a burden or even embarrassing at times when we did not "fit in" with the neighbors. However, I have since found it to be an advantage to forge my own traditions with my family that can uniquely reflect our identity in this crazy world."
He reminds prospective graduate students that the biggest strengths they can bring are their differences. "Fresh ideas and unique perspectives are how the boundaries are pushed, and graduate school is here to give us a place to learn how to push them."
He is eternally grateful for his parents' sacrifices and his mentors' generous support.
Media contacts:
College of Engineering, Carnegie Mellon University
Lisa Kulick, lkulick@andrew.cmu.edu 
The Paul & Daisy Soros Fellowships for New Americans
Nikka Landau, nlandau@pdsoros.org