Innovative ink for stretchable circuits
Jul 8, 2021
Findings from a research collaboration between Carnegie Mellon University's College of Engineering and the University of Coimbra's Institute for Systems & Robotics were featured as the cover article in a recent issue of the journal ACS Applied Materials & Interfaces. 
The paper introduced a unique printable ink that allowed, for the first time, the digital printing of multi-layer stretchable circuits, electronic skins (e-skins), and adhesive medical patches for electrophysiological monitoring. The materials and methods enable the scalable fabrication of stretchable circuits using simple extrusion printers.
These electrical circuits can be printed on a medical adhesive for patient biomonitoring, over elastic polymer to make artificial skin for robotics applications, and onto textiles for wearable computing.
Mahmoud Tavakoli, an assistant professor at the University of Coimbra and head of the Soft and Printed Microlectronics Laboratory, led the project. He collaborated with Carmel Majidi, a professor of mechanical engineering who directs the Soft Machines Lab at Carnegie Mellon. The work is part of the CMU-Portugal partnership.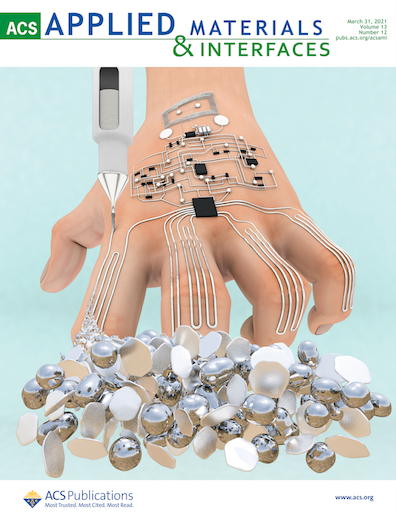 "To integrate electronics into textile for wearables or on polymers for biomonitoring patches, it is necessary that these electronics are stretchable and elastic," Tavakoli explained. "In the last decade, many researchers have worked on stretchable electronics. However, it has been difficult to produce these circuits in a scalable fashion."
With this new invention, these circuits can now be easily printed using low-cost printers. This enabling technology will allow companies to produce billions of patches quickly and cost-effectively.
Because all stages of the fabrication process are performed at room temperature, the ink is compatible with heat resistant substrates such as medical adhesives for wound dressing. 
This printable conductive ink is having a transformative impact on our ability to create digital circuits that are soft and stretchable.

Carmel Majidi, Associate Professor of Mechanical Engineering, Carnegie Mellon University
The new ink has a high conductivity and extreme extensibility, enabling the printing of ultrathin, highly flexible circuits with several layers. Unlike ordinary metal liquids, this ink is easy to print, does not stain, and is easily applied to a wide variety of materials.
The cost reduction and scalabilty of this technology will impact applications such as stretchable batteries and super capacitors, and flexible displays and solar panels.
"This printable conductive ink is having a transformative impact on our ability to create digital circuits that are soft and stretchable," Majidi said. "We're currently working with Mahmoud's group in applying this ink to create soft robot skins that can feel and sense contact, and electronic stickers that can be worn on the skin and monitor health vitals."
The ink formulation is patented jointly by the University of Coimbra and Carnegie Mellon University.
Media contacts:
CMU-Portugal: Mariana Carmo, mariana.carmo@cmuportugal.org 
College of Engineering: Lisa Kulick, lkulick@andrew.cmu.edu 

The original version of this story appeared here.