A passion for teaching
Kayla Valentine
Mar 14, 2022
Coming from a long line of engineers, Nestor Gomez felt that it was only right for him to become one himself. However, ever one to challenge himself, he is only the second to follow the path of civil engineering instead of mechanical. "I wanted to build things, but I didn't want to build little things," he said.
After completing five years of teaching at Florida International University right after graduate school, Gomez became a civil engineering consultant. He participated in multiple projects, including a post-tension dome—a three-fourths sphere building rather than a domed roof—in Ohio, which stood out as one of his favorites.
"It was a small project, but I liked that it was a lot me," he said, his smile bright. "I did the structural analysis, I went out to the field to make sure they were doing everything, I did all the drawings. There was a lot of me in it." Gomez added that he emphasizes this to his students: that wherever they go, they need to put themselves and what they have learned into their work, to continue pushing engineering to new heights.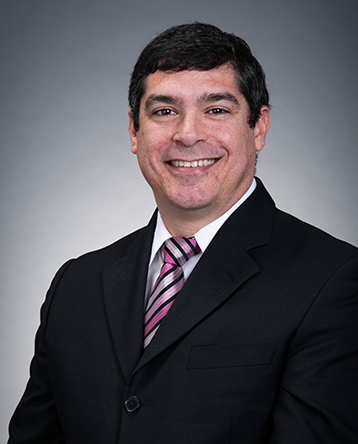 Fifteen years later, Gomez returned to teaching. An assistant teaching professor, he has worked in the Department of Mechanical Engineering since 2018, having a Ph.D. specialization in computer-aided design that lends itself to almost every engineering discipline and allowing him to "grow his wheelhouse."

He is responsible for instructing students through hands-on courses that prepare them for real-world problem solving, which he referred to as the "Carnegie Mellon Method." He has crafted courses that are project heavy, engaging his students to work through problems and find the solutions.

Something of importance to him is students understanding computer software, from more complicated systems like MATLAB, to simpler programs, such as Excel.
Gomez teaches courses in mechanical engineering and in IDeATe (the integrative design, arts, and technology program at Carnegie Mellon University).
"I definitely try to take a little bit of inspiration from existing things—not just from the arts, but also from technology—and look at these brilliant leaps in understanding something. This one way of thinking about the problem that makes the problem completely different," he said. 
He gives an example of how he begins his courses, explaining an exercise that uses the National Collegiate Athletic Association (NCAA) basketball tournament in which sixty-four teams compete, to show how a seemingly complex formula can be simplified through deeper thinking and considering other factors. When calculating how many games are played over-all, he says, there are two options. Most people tally the number of games played in each tier, involving multiple steps. However, simply noting the number of teams that need to lose for one to be left standing will result in the same answer, with only one step.
His favorite course to teach is Engineering Design II: Conceptualization and Realization, otherwise known as capstone design, in which students design groundbreaking products, rather than more traditional engineering forms. The class is very product-oriented, multi-disciplinary, and innovative. Gomez expresses a love for observing his students as they work and problem solve, and of wanting to join in on the fun.
He hopes that as engineering moves forward, collaboration, especially across different departments and disciplines, continues to grow into a strong community.
Gomez earned his bachelor's degree in civil engineering at Florida Institute University and his Ph.D., also in civil engineering, at Carnegie Mellon University. 
Media contact:
Lisa Kulick, lkulick@andrew.cmu.edu