A heart for hamburgers
Kelly Rembold
Jun 1, 2023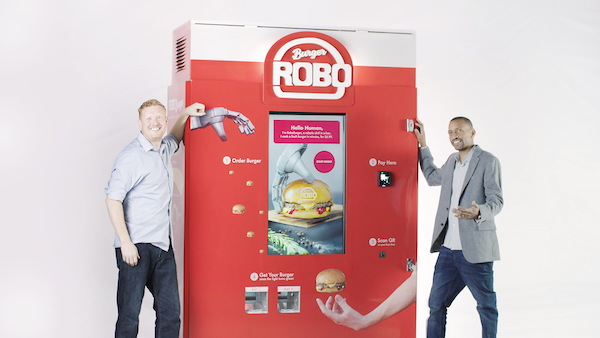 Carnegie Mellon University alumni Dan Braido and Audley Wilson are changing the food and beverage industry one burger at a time. 
They're the co-founders of RoboBurger, the world's first burger robot in a box. 
RoboBurger is a "restaurant in miniature" that cooks and serves a fresh burger in about 4 minutes, any time of the day or night. It's the size of a vending machine and contains everything you'd find in a traditional kitchen including a dishwasher, a griddle, a refrigerator — and a robo-chef.
The robo-chef grills the beef, toasts the bun, dispenses the condiments and assembles the burger and delivers the tasty treat. Each burger is made with Angus beef patties, Potato Rolls, an aged cheddar cheese sauce and Heinz condiments.
There are currently two RoboBurger machines in operation, and the list of locations is growing.
"Our vision is to get RoboBurger in every dorm, office building, airport, hospital, you name it," says Audley, the company's chief executive officer and 2005 Tepper School of Business graduate with a bachelor's degree in business administration. "Any place where people want a burger at any hour, we want to be able to provide it to our customers." 
The Perfect Pairing
Before they were co-founders, Dan and Audley were fraternity brothers at CMU. They met during their first year on campus when they both pledged Kappa Delta Rho and quickly became friends.
 "After that, I would always be helping Audley with little bits on his crazy projects, giving him that engineering and mechanical side knowledge," says Dan, RoboBurger's chief tastiness officer, who graduated from the College of Engineering in 2004 with a bachelor's degree in mechanical engineering.
One of Audley's projects was a food robot inspired by the TV show, "The Jetsons." It was the first version of what would eventually become RoboBurger, and it was also the first step to his career in entrepreneurship.
During his junior year, Audley's entrepreneurship class had a goal to start a business. Since he hated to cook and his food robot was far from complete, he opened Hkan Hookah Bar and Lounge in Pittsburgh's South Side neighborhood.

"The food robot wasn't quite developed yet," Audley says. "I knew nothing about the food service industry, so I figured I'd start a restaurant. I would learn what I don't know and be able to fill the missing spaces between that restaurant, the robot and the future."

Hkan was open from 2004 to 2015. A few years after opening the Hkan, Audley moved to New York City for a career in analytics. He worked for 1-800-FLOWERS.COM before moving to Atlantic Coast Media Group, where he met the third RoboBurger co-founder, Andy Siegel.

While Audley focused on entrepreneurship and analytics, Dan continued his education in engineering.
He earned a master's degree in mechanical and aerospace engineering and a Ph.D. in chemical and
biochemical engineering from Rutgers University. After obtaining his degrees, he worked as a
consultant in the life sciences and food industries.

Although they were on different paths, the pair remained close.
"I don't think there was a year that went by we didn't see each other," Dan says. "Our careers
went in different ways but our friendship didn't. We were always making a point to see each other a
couple times a year."
It's my background of understanding why good food tastes good, how to apply the proper cooking techniques to get the great final product and a whole lot of engineering and process design to lump it all together.

Dan Braido, Co-founder, RoboBurger
Building a Better Burger
Dan and Audley also made it a point to work on the food robot. They built the first prototype around 2006 in Audley's dad's garage.
It was as big as the garage and operated like the kitchen of a restaurant, instead of a standalone machine. 
It wasn't the food robot of the future, but it was a start.
The recession of 2008 hit soon after they built the first prototype, so they took a hiatus until they could secure further funding. They also had to address food safety and sanitation concerns. 
In 2018, Audley resumed work on the burger machine in his living room. During that time, he convinced Dan and Andy to join him. They officially founded RoboBurger in 2019. 
"That's when we really took it to the next level in terms of actually being able to get some of these contraptions working together in sync, starting to do the dance that we called 'Making a Burger,'" Audley says. 
Once the prototype was working, they also had to tackle the taste. That's where Dan stepped in, sharing his knowledge of the food industry and his love of cooking.
"That was what drew me to this," Dan says. "It's my background of understanding why good food tastes good, how to apply the proper cooking techniques to get the great final product and a whole lot of engineering and process design to lump it all together."
Today, RoboBurger is the only hot food vending machine certified by the National Sanitary Foundation, and the food and beverage industry is taking notice. 
 "It's been a real journey," Audley says. "We're super excited to finally be at the point we're at now and working with some of the largest food and beverage organizations and moving these units throughout the world."
As RoboBurger grows, Dan and Audley's ideas for the future are growing with it. They're already planning to adapt the technology for different foods and listening to consumers along the way.
"It's taking what we have in the technology now and getting more and more of these machines out into market and using that momentum to continue funding research and development on exactly what is next," Dan says. "We had the idea for the burger machine because we were hungry, and we like burgers. But your own passion only takes you so far, you've got to see that this is a product for serving other people, and their feedback is what guides our next steps."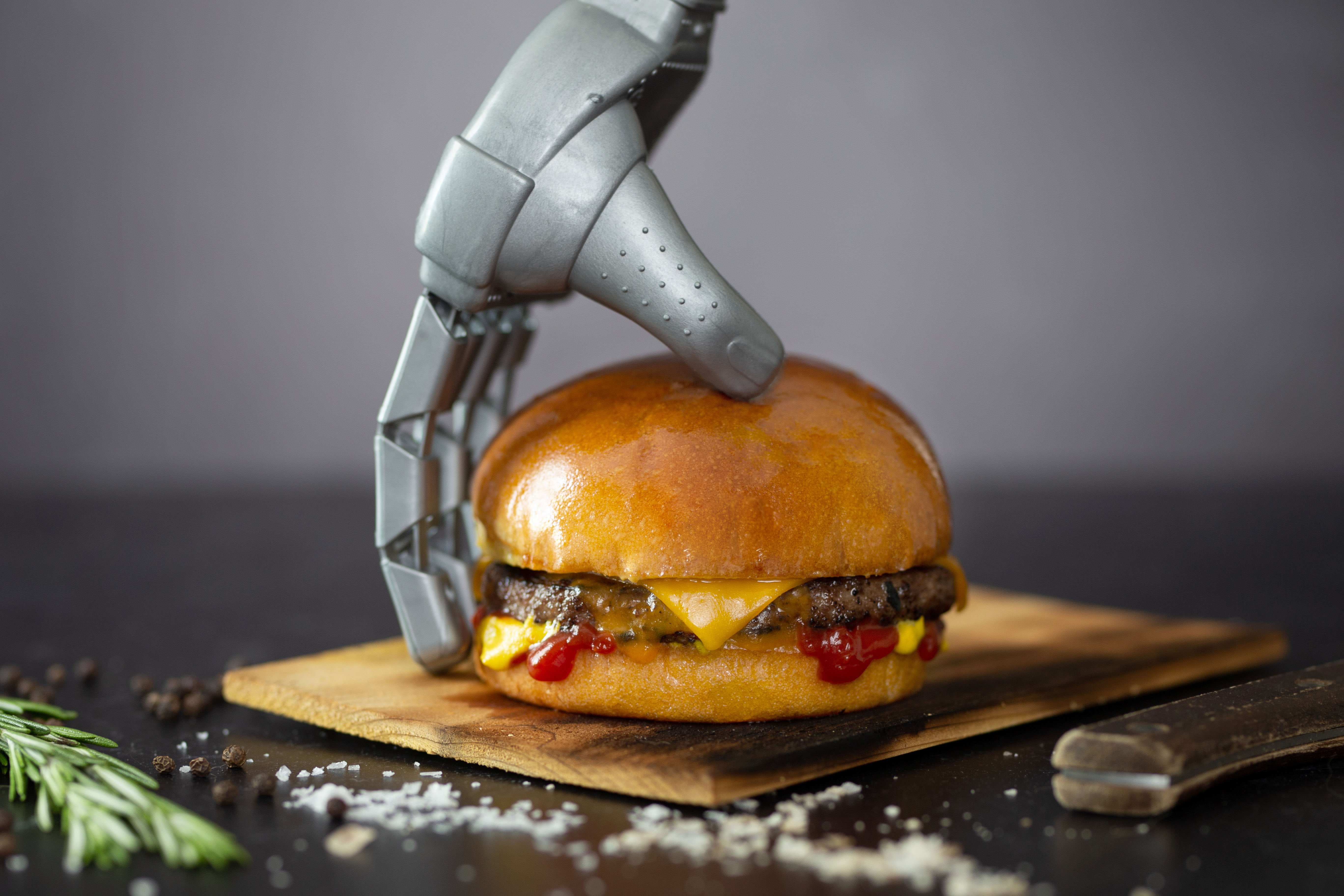 A Recipe for Success
Dan and Audley's passion and persistence in bringing RoboBurger to life isn't something they learned overnight. They both credit their CMU education for teaching them important lessons and helping them along the way.
For Dan, the people at CMU made an impact personally and professionally.
"It's the people that you meet there, it's their passion for the work that they're doing," Dan says. "I loved being able to interact with them and form these bonds and friendships, but also learn about what they're doing and really expand the scope of my knowledge."
For Audley, it was Andrew Carnegie's words and CMU's motto, 'My heart is in the work' that inspired him to keep going. 
"I remember taking the mandatory business classes where they instill that phrase in you," he says. "But at the end of the day, that passion has been what has driven us to continue to push RoboBurger through all the hard times toward our successful future."